One thing I love about the Internet is the way new information sometimes bubbles up from sources that have lain quietly for decades and then are suddenly digitized. My mother's sister's name, Marian O'Hearn, popped up recently in a context I had never seen it in before.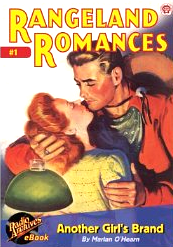 I never met Aunt Marian — she was a lot older than my mom, and I am the youngest in my family — but I knew she earned her living as a writer at a time when that was rare for a woman. She wrote for Rangeland Romances and other pulp magazines, and was a minor figure among the pioneering female noir writers.
But now it turns out Aunt Marian was also a "sporting editor" for the Denver Express newspaper, which was around from 1906 to 1926. Her "pithy comments on matters fistic, baseball, football and athletics in general appear under her writing name of Judy O'Hearn," according to an item in a 1918 publication of Editor & Publisher. That seems amazing to me, given the times.
Everybody in my mom's poor, immigrant family in north Denver, Colorado, wanted to be a writer, but Marian actually did it. Mom was a terrific writer, but she never published much. She was always sniffy about Aunt Marian's work in western pulps, but I thought she might have been a little jealous, too. If she knew you could buy one of Aunt Marian's stories on iTunes today, like "Another Girl's Brand," pictured here, I think Mom would be very jealous indeed.
Aunt Marian was born in western Massachusetts, probably Williamstown. I'm not sure when. The family moved to Denver before my mom, Eileen O'Hearn, the youngest of seven children, was born in 1911. One of Mom's  brothers, Charles O'Hearn, was dangerously asthmatic, and doctors at the time often prescribed the dry Colorado climate for lung diseases.
I should say, we have long generations in my family. If you get a few forebears having children into their 40s, and you happen to be at the tail end of the family yourself, in no time you get a long telescope of living memory going back into some interesting history.
"Marian O'Hearn" is sometimes listed as a pseudonym for a writer named "Anita Allen." I have no idea what that's about. Maybe one of these days the Internet will kick up some more information that will clear up that mystery.