Practically everything I know about Alexandria, Egypt, I learned from Lawrence Durrell's Alexandria Quartet, so I am sad to see that the house that inspired the books is in bad shape, and may be coming down.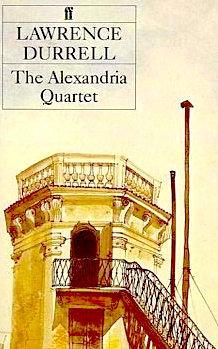 The Guardian is reporting that the neglected Villa Ambron may be torn down to make way for a condo development. Durrell, a British writer who mostly lived in Asia and the Near East, lived in the villa in the mid-1940s with his girlfriend, later his second wife, Eve Cohen. Durell wrote Prospero's Cell in a tower writing room in the villa, and  took notes for Justine, the first book of the quartet. The character of Justine was based on Cohen, and Durrell reportedly took many details for the quartet from his time at Villa Ambron. The other books were  Balthazar, Mount Olive and Clea. The Alexandria Quartet is Durrell's best-known work.
The present owner of Villa Ambron has apparently intended to develop the property for years, but has been foiled repeatedly by preservationists and Durrell's fans. It's an unstable time in Egypt, though, and many of the old villas from Alexandria's cosmopolitan past, which are supposed to be protected, are toppling.
I was taking night classes in Modern Greek at the University of Chicago when I read The Alexandria Quartet. At the time, I was interested in everything about that part of the world. I recall the books being lush and romantic, but ultimately preposterous, to me, anyway. I remember telling a friend the characters would have a lot fewer problems if they all just got jobs. (That says more about me than about the story, I know.)
Still, I wrote this passage from Justine down in a little notebook I kept at the time. I guess it's set in Villa Ambron:
That was the first time I saw the great house of Nessim with its statues and palm loggias, its Courbets and Bonnards — and so on. It was both beautiful and horrible. Justine hurried up the great staircase, pausing only to transfer her olive-pit from the pocket of her coat to a Chinese vase, calling all the time to Nessim. We went from room to room, fracturing the silences. He answered at last from the great studio on the roof and racing to him like a gun-dog she metaphorically dropped me at his feet and stood back, wagging her tail. She had achieved me.
I still know some Greek, by the way. It's a great language for a writer. I don't have a Greek keyboard, so I'll have to go with something I can paste in here. How about Καλή χρονιά! Happy New Year!